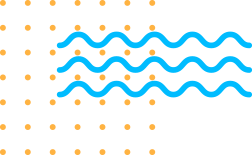 Calculating Your ROI on CEM
Investing in any CEM solution is a significant investment, but it is one that returns even-more significant, measurable benefits. Discover what return on investment (ROI) you can expect from TaKaDu Central Event Management.
Through many years of working with water utilities, we have developed a detailed methodology for calculating the economic value of investing in the TaKaDu CEM solution. The ROI calculation model looks at four key categories in which utilities can realize significant savings – water loss reduction, operational cost reduction, improved human resource utilization, and fast handling of telemetry and meter faults. By considering those four categories together, we have found that most water utilities estimate they will achieve 5-10x ROI on the annual investment.
12 months of savings with TaKaDu CEM
Saving from water loss reduction
Operational cost efficiency
Efficient use of human resources
Fast handling of telemetry & meter faults
Calculation done by a water utility with a network size of 2,000 km, divided into ~70 DMAs
"Since 2013, our partnership with TaKaDu has delivered: 8700 ML of water leakage detected (had the leak gone undetected for 12 months); and $27.9M of savings in lost water over the period."
"TaKaDU allows us to monitor the pressure in our network and detect leaks before they become bursts. This year, it allowed us to save 1,232 ML of water, equating to $3.7M. Since we began using TaKaDu in late 2013, we have saved 6,390 ML of water and $19M."
"The calculations of saving water and money by early detection were made using the machine learning technology used by TaKaDu and the early repair solution in the drinking water network. It was determined that the amount of savings would be approximately USD 675,000, if the leaks identified in the pilot project had not been detected in one year."